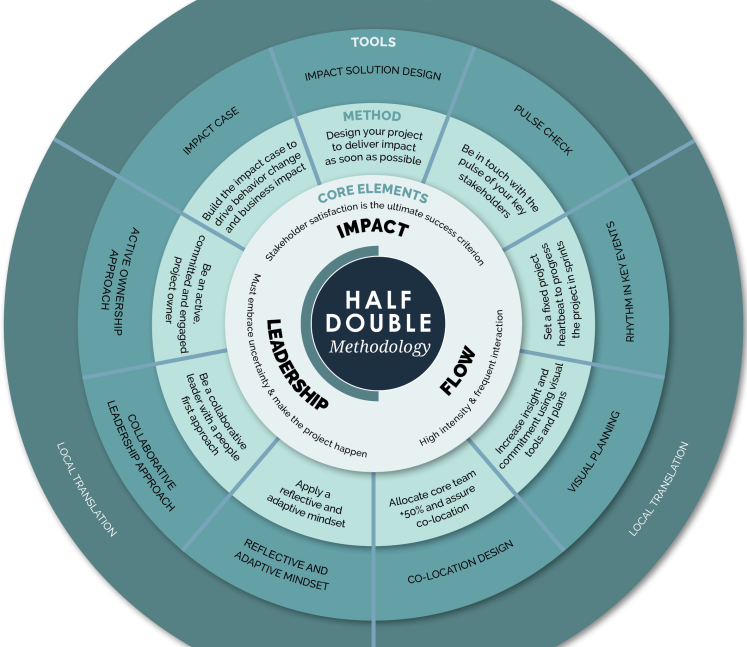 Webinar
Improve the success of your projects with Half Double
Join us for the webinar on the 8th of June and learn about the Half Double Methodology, a new hybrid project management methodology that enables you to create more value in your projects faster.
Half Double is a project management approach based on actual human behavior, unpredictability, and complexity. It has been tested and validated through numerous projects in various industries and been applied to a wide range of project types – and it works.
We have the numbers to prove it. Research have found that 69% of Half Double projects outperformed comparable projects in the same organization. 87% of documented Half Double projects have been successful. That is a huge step up from the 30-35% success rate of projects across the globe and across sectors.
Half Double is a hybrid project model taking the best features from classic project management and agile and adding an unprecedented emphasis on leadership to create a powerful method to increase success of projects, portfolios and thereby, organizations. The methodology consists of 3 core principles, 9 methods and tools which all together capture and fulfil the potential of your project when applied.
Interested in learning more? Join us for a 45-minute webinar hosted by the executive director of the Half Double Institute Christina Sejr Pedersen, where you get an introduction to the methodology and how you can use it to improve the execution of your projects.
Registration is free - sign up here
Language: English
0
The event is hosted virtually.