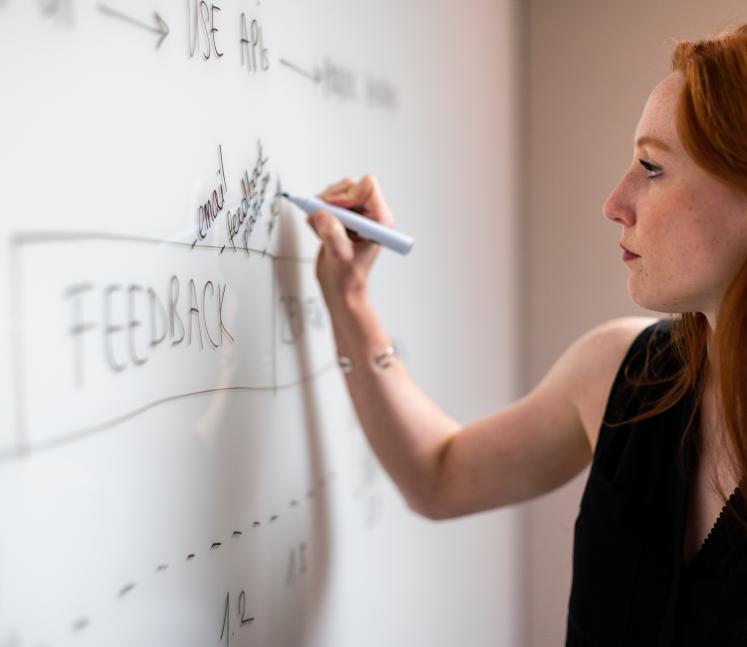 Course
Projektledelse Half Double Foundation - certificering (dansk)
Halvér "time-to-impact" - og opnå dobbelt effekt.
Lyder det for godt til at være sandt?
Det er det ikke.
I hvert fald ikke, hvis dit projekt og din organisation har en vis størrelse og en vis kompleksitet. I så tilfælde kan du hæve din succesrate betragteligt. International forskning viser nemlig, at projekters succesrate almindeligvis ligger på bare 30-35 procent. Half Double-metodens succesrate er +60 procent.
Half Double er en hybrid-metode, der tager det bedste fra klassisk projektledelse og mixer med agil metode med inspiration fra Lean.
Projektledelse baseret på Half Double lægger vægt på:
Impact:
Hvordan definerer du den værdi, et projekt skal skabe?
Flow: 
Flowet skaber fremdrift. I processen skaber vi noget, som vi viser til vigtige interessenter.Flowet er en måde, hvor man får kommunikeret med sine vigtigste interessenter over en given periode.
Leadership:
Folk får projekter til at lykkes. Handlinger og engagement får folk til at lykkes.
En anden vigtig pointe i Half Double-metoden er, at i virkeligheden er vi mennesker ikke så rationelle, som vi tror, vi er. Den faktor tager Half Double hensyn til. Half Double-metoden er skræddersyet til virksomheden og projektets eget kultur, system og struktur.
Du får blandt andet viden og forståelse for: Projektledelse i et nyt perspektiv.
Værdi for dig
Du får en gennemprøvet model, der har bevist sin effektivitet.

Du får konkrete redskaber og metoder, du kan bruge på dine egne projekter.

Du får personlig sparring på din rolle som projektleder.
Værdi for virksomheden
Virksomheden får projekter, der bliver gennemført hurtigere og med større succes.
Pris
Kursus koster 9.900 DKK, hvilket er inklusiv opstarts sessionen og gebyr for certificeringseksamen
Kick-off
Forløbet opstartes med en kort online kick-off session, hvor forløbet introduceres. Du hører her om din forberedelse til de tre kursus dage, der foregår på IBA. Dermed er det et blended forløb.
I de tre kursusdage skal du forvente at have noget hjemmearbejde. Til den første kursusdag skal du have læst et kompendie.
På den første kursusdag vil du modtage forskellige materialer. Elektronisk materiale vil være tilgængeligt på IBA´s læringsportal både før, under og efter kurset.
Kick-off sessionen til dette kursus vil finde sted den 2. November fra 11:00-12:00
Målgruppen
Uddannelsen er for dig, der vil styrke din tilgang til projektledelse. Du er interesseret i at optimere dit arbejde med den nyeste viden og de bedste metoder.
Niveau
Faget forudsætter et vist forhåndskendskab til projektledelse. Det kan f.eks. med fordel tages i forlængelse af akademifaget "Projektledelse".
Undervisningen foregår på dansk.
Half Double Foundation er ikke en del af Akademiuddannelserne og er ikke ECTS-givende, men afsluttes med en online multiple choice certificeringseksamen af en times varighed (du får ekstra tid hvis engelsk ikke er dit modersmål). For at bestå skal du have 70% korrekte svar.
Du modtager et certifikat fra den internationale certificeringsorganisation APMG™.
Certificeringen udløber ikke, og skal således aldrig fornyes.
Afmeldingsbetingelser
Eventuel afmelding til uddannelsen kan ske gebyrfrit indtil 14 dage før undervisningsstart. Sker afmelding herefter og frem til uddannelsesstart, bliver du faktureret DKK 500,- i afmeldegebyr. Afmelder du dig efter uddannelsesstart, faktureres det fulde beløb.
Ved dokumenteret sygdom,­ afslag på Statens Voksen Uddannelsesstøtte (SVU) eller afslag fra a-kasse/jobcenter, ­kan afmelding ske gebyrfrit helt op til første undervisningsdag.
1