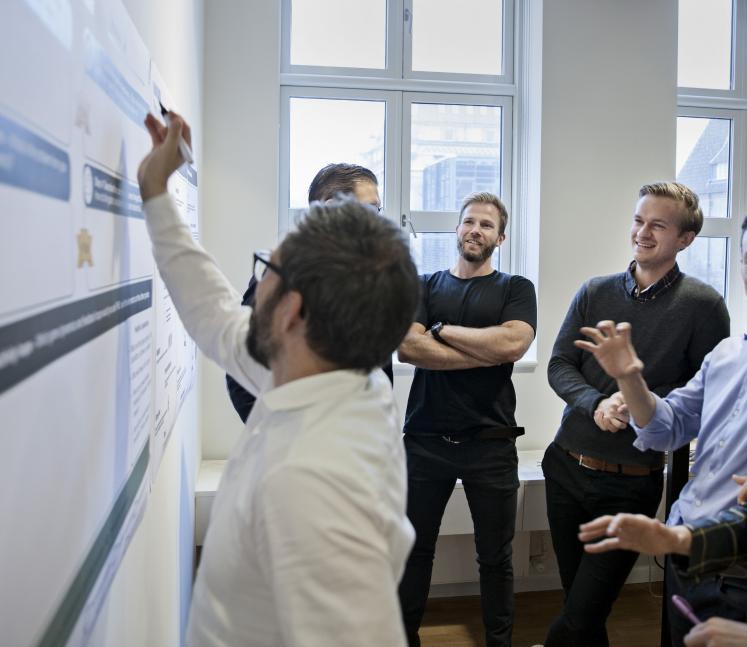 Course
Foundation Certification Course in English (digital course)
Learn to increase early impact and the overall success rate of your projects.
About
Ignite is Half Double's Foundation course. Through Ignite, you gain knowledge and expertise in all aspects of Half Double, and you get the opportunity to sit for the certification for Foundation level in Half Double.
The course is intended for project managers, both experienced and new project managers. In addition, project participants and project owners will also benefit from the course.
After the course, you will be able to implement changes in your own project and in your own organization, following the methodology from Half Double.
Course description 
The course covers Impact, Flow, and Leadership, which are the main elements of Half Double. The course has both a theoretical part and a practical part.
The course runs over 3 full days and offers certification as an extension to the course, or by using a digital proctor at a convenient time.
Price: 14.590,- (NOK)
Material and preparation
All course participants receive the Half Double Methodology Foundation Guide as a downloadable link. Before the course, it is advisable to spend a few hours familiarizing yourself with the Guide as it will increase the learning outcome, however this is not a requirement.
Certification
The certification is online with multiple-choice answers. There are a total of 40 questions that must be answered within 1 hour. 28 correct answers are required to be certified.
Certification to foundation level does not have expiration date and is permanent.
The certification fee of NOK 2,150,- (NOK) is included in the course fee, but if you have to repeat the certification, a certification fee will apply.
Digital / English
Our digital courses are held in English. All course material and certification exam are in English, and the trainer is fluent in English. we use Teams for presentation and Miro for group work. The group work will take place in smaller groups in «break-out rooms» in Teams. 
The trainer
Arnstein Schei is a long term consultant and has held several management positions in international corporations. Arnstein holds a masters degree in Informatics as a Cand Scient from the University of Oslo. Arnstein became the first Certified Half Double trainer in Norway, and uses the method every day as a project manager.
«The Half Double philosophy turns the perception of a project around as you deliver almost too fast and too soon!»
1