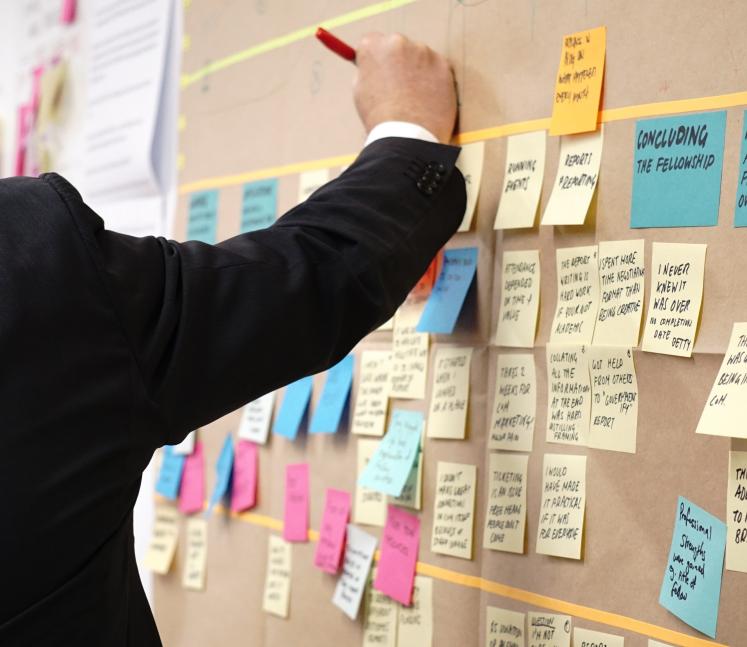 Course
Half Double Practitioner in Norwegian
Bli i stand til å implementere endringer i eget prosjekt og i egen organisasjon og forstå effekten av de ulike verktøyene i Half Double metoden.
Practitioner Boost og Practitioner Class former Half Double sitt Practitioner kurs. Gjennom disse to modulene vil du vise praktisk anvendelse av alle de tre hovedelementene i Half Double. Du blir også utfordret i forhold til hvilke lokale tilpasninger som er eller har vært nødvendige i dine prosjekter. Kurset gir anledning til å sertifisere til Practitioner nivå i Half Double. 
Kurset er beregnet på prosjektledere som ønsker å bruke Half Double i sine prosjekter. Det er en forutsetning for deltagelse med sertifisering på Foundation nivå i Half Double.
Etter kurset vil du være i stand til å implementere endringer i eget prosjekt og i egen organisasjon og forstå effekten av de ulike verktøyene.
Kursbeskrivelse
Kurset har to moduler Boost og Practitioner Class. I tillegg må du skrive et refleksjonsnotat over egne erfaringer med Half Double.
Boost delen er en oppfriskning av det teoretiske fundamentet, og går over 3 kortere sesjoner, hver på 2t. Hver av sesjonene tar for seg et av hovedelementene Impact, Flow, eller Leadership. Denne delen er normalt Digital.

Practitioner Class er en heldags prosjektgjennomføring hvor teori og erfaring appliseres på et konkret case (prosjekt).

Refleksjonsnotatet er en 5-10 siders artikkel hvor du beskriver dine erfaringer med hver av hovedelementene i Half Double. Notatet skal være på engelsk og danner grunnlaget for sertifiseringen.
27. Feb 08:00 – 10:00, Boost – Impact (Digitalt)
  6. Mar 08:00 – 10:00, Boost – Flow (Digitalt)
13. Mar 08:00 – 10:00, Boost – Leadership (Digitalt)
27. Mar 09:00 – 16:00, Practitioner Class (Fysisk)
Pris
Practitioner Boost og Practitioner Class 8.700 kr
Sertifisering (APMG) 6.700 kr
Materiale og forarbeide
Du må ha avlagt Foundation sertifisering for minst 2 måneder siden. Du må også ha brukt, eller kunne bruke teknikker fra Half Double i ditt arbeide.
Dersom du ikke har Half Double kompendiet vil du få dette i pdf format. Det er ikke nødvendig å anskaffe annen litteratur. Før Boost-delen av kurset er det lurt å bruke noen timer til å sette seg inn i kompendiet da det vil øke læringsutbyttet, men dette er ikke et krav.
Sertifisering
Etter gjennomført Practitioner kurs vil du bli meldt opp som kandidat for Practitioner Certificat hos APMG som er Half Double sitt akkrediteringsbyrå 
Selve sertifiseringen er en times intervju med en representant fra APMG. Intervjuet er normalt på engelsk og vil primært være fokusert på dine erfaringer som beskrevet i refleksjonsnotatet. Intervjuet er digitalt og på et tidspunkt som avtales direkte med sensor.
Sertifisering til Practition nivå er gyldig i 5 år, og det utstedes Badge fra credly.com som kan vises i digitale sosiale medier.
Sertifiseringsavgiften er på 6.700,- og er ikke inkludert i kursavgiften.
Digitalt/Fysisk
Practitioner kurset har både en digital og en fysisk del. Til den digitale delen benyttes Teams med break-out rooms. og til den fysisk delen vil et egnet lokale basert på antall og geografisk spredning av deltakere. Vi holder både digitale og fysiske kurs. I de digitale bruker vi Teams til presentasjon og Miro til gruppearbeid. Gruppearbeidet vil foregå i mindre grupper i «break-out rooms» i Teams. I de fysiske kursene vil deltakerne deles i grupper og samhandle på vegg og bordflater.
1